March 12, 2018
OSU Model African Union represents Guinea and Liberia at International Simulation, Win Awards
Image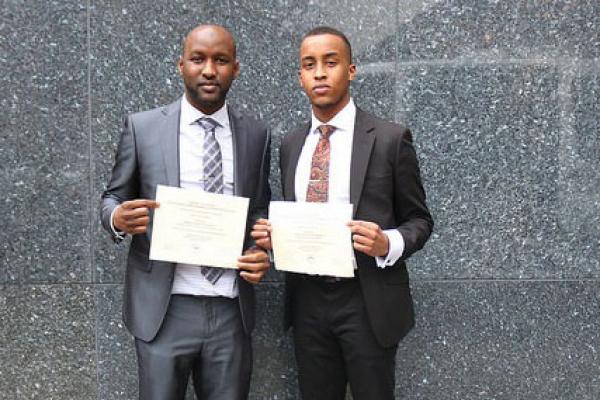 Description
For the eighth consecutive year, OSU students from the Model African Union (MAU) organization took part in the annual international simulation hosted by Howard University in Washington, DC February 22-25.  The fifteen OSU students who represented Guinea and Liberia were joined by 50 other student delegations from across the US, Canada, and for the first time the United States International University of Africa, based in Kenya. 
MAU members prepared for months to represent their countries on committees focused on economic and social matters, peace and security, democracy and human rights, pan-africanism, as well as via a crisis committee.   They engaged in individual country research, drafted resolutions proposing new programs and policy, interacted with country experts, and practiced debate and parliamentary procedures.  Once in Washington, students refined their understanding of Liberian and Guinean policy through briefings with embassy staff, including Her Excellency Ambassador Lois Cheche Brutus of Liberia and Political Affairs Chargé Mr. Karamo Koita of Guinea.  Over the next three days, students participated actively in debate, negotiation, and policy-making caucuses, resulting in a set of resolutions now being shared with the African Union Mission to the United States. 
This year's MAU board, led by Farida Moalim (Arabic/AAAS), Amy Dieye (Sociology/CPH), Abdoulaye Fofana (UISP), and Thierno Ly (UISP), along with advisor Laura Joseph of the Center for African Studies,  were particularly successful in motivating and training students as well as in organizing and fundraising for the summit.  Two club members, Hamze Ahmed and Abdoulaye Fofana, received the Michelle Tooley Outstanding Delegation in Committee Award for their notable contributions to their committees' accomplishments.  All members came away with passion and appreciation for the work of the African Union and for the challenges of effective policy-making in general. 
---